This site is optimized for viewing with Netscape Navigator.
If you aren't using Netscape, you are missing
much of the ambience of these pages (and many others on the Web)...



This page is copyright © 1995, 1996 Hermetic Fellowship.



Last updated 1 June, 1996 CE.







Self-Initiation
into the
Golden Dawn Tradition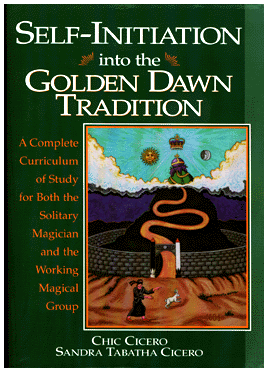 Chic Cicero & Sandra Tabatha Cicero
From the Book Cover
Self-Paced Study for the Beginning Golden Dawn Student
Initiate Yourself into the Golden Dawn
Regardless of your magical knowledge or background, you can learn and live the Golden Dawn Tradition with the first practical guide to Golden Dawn initiation. Self-Initiation into the Golden Dawn Tradition offers self-paced instruction by the established authorities on this magical order!
For the first time ever, the esoteric rituals of the Golden Dawn are clearly laid out in step-by-step guidance that's clear and easy-to-follow. You need no prerequisite for mastering this highly sought-after curriculum. Your learning is enhanced by written examinations, daily rituals, and meditative work. Upon completion of this workbook, you can be a practicing Golden Dawn magician with knowledge of qabalah, astrology, tarot, geomancy, and spiritual alchemy.
Become a Golden Dawn magician through the most comprehensive and scientific system on Golden Dawn study!
Pursue your own chosen spiritual path and monitor your progress
The only workable Golden Dawn self-initiation manual
Instruction free of jargon and complex language
No need for group membership or prohibitive expense
Lessons that don't require familiarity with magical traditions
A complete progression of grade rituals from Neophyte to Portal
An exclusive practice for establishing a link with your Higher Self
Learn the fundamentals and theories of Magic and empower your rituals!
Structured lessons supported by written examinations, daily rituals and meditative work
A perfect introduction to the Golden Dawn tradition: the most sought-after magical curriculum today
Understand and use Practical Magic and High Magic for a renewed sense of purpose every day
Publication Information
Chic Cicero & Sandra Tabatha Cicero, Self-Initiation into the Golden Dawn Tradition
St. Paul, MN: Llewellyn Publications, 1995
ISBN 1-56718-136-8
$39.95 US
$59.50 CAN
To Order
Available from your local bookseller or order directly from Llewellyn Worldwide.



If you have enjoyed this site, don't forget to bookmark it
in your browser or add it to the Hot Links at your Web site.